Act as if It Were Impossible to Fail and the World Is Yours
Recognize the Will to Fail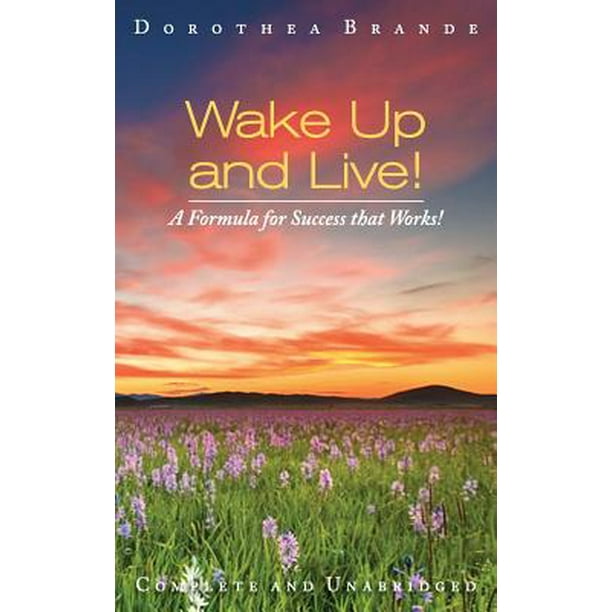 "Act as if it were impossible to fail."
That is the core teaching of the book, Wake Up and Live! by Dorothea Brande, which I happily discovered a few weeks ago. Her words keep echoing in my mind and I thought I should share them with you.
It is man's nature to want to be successful, but Ms. Brande says, "to some degree most adults are living inadequate lives and suffering the consequences . . . because they are victims to what she calls a 'will to fail.'"
She goes on to say, "that unless we see this in time — and take action against it, we die without accomplishing our intentions."
The 'will to fail' was a new concept for me, possibly for you as well.
The way she explains it is . . .
Unsuccessful people use their energy to fail by giving up, making excuses, taking the easy path, wasting their time on unproductive activities, etc.

They DO NOT choose actions that reflect their best and move them toward success. They succumb to the downward drag, devitalizing, frustrating current that says you are going to fail — the antithesis to success.
A Book that Will Change Your Life
The reason she wrote this book was to help people stop living their lives as victims of the 'will to fail' and begin to live happily and well. Even though the book was written many years ago it is as timely today as it was then.
The book is slightly difficult to read because it was written in very long paragraphs, a mark of the times, but don't let that stop you. The content is remarkable.
She lays out a detailed process of how to overcome 'the will to fail.' It would be wise to read the entire book to get every morsel of information she offers regarding the power to overcome this insidious problem many of us face as we race to realize our dreams
For our purpose today, I'm going to condense it down to three steps. Hope you find them helpful.
Step One
The first step is to recognize that the "will to fail" is very real and may be heavily integrated in your life.
You must stop ignoring that it may exist within you. If it does — then, face it — and choose to turn away from it.
Actions that indicate you are caught in the trap of the "will to fail" are:
Acting as if you have a thousand years to live by frittering your hours away
Holding back — not actively participating in anything (work or life)
Time-killing activities — TV, texting, playing games on phone, Social Media, Computers
Excessive actions — drinking, exercise, sleeping, overeating
Hours spent reliving the past — or daydreaming about the future
Living your life for others (self-sacrifice) — children, parents,
Accepting and staying in a job that uses only a fraction of your abilities
Continually indulging in nonproductive, sterile, boring work to look busy and fill the hours.
Do any of those sound familiar?
Step Two
Step two requires that you reclaim your energy and time.
From this minute forward devote every ounce of energy and every moment of time to purposeful action that takes you to a specific end.
To begin — all you need is a little imagination and a willingness to turn away from disturbing old habits long enough to finish one piece of work.
1. Choose one project that you are well-equipped to do (you have the talent, training, desire) — it doesn't have to be huge. Stop right now and decide what that project will be. What do you want to do?
2. Create a proper state of mind
Create a model in your mind by remembering a past success in detail.
It doesn't matter hold old you were — high school and college are fine. The purpose is to recapture your state of mind while working on a project that was completely successful.
You are not looking for the feeling of elation when it was over.
It is important to reclaim the steady confident feeling you had when you knew you could do the job — that it was well within your reach!
a. Bring back every detail, circumstance and feeling of that moment.
b. Transfer all of that positivity and knowing that you can succeed to the project you have chosen.
c. Now, move forward with absolute certainty that the present work will go as smoothly as it did when you succeeded in the past.
Step Three
The final step is to do the following as you move into action . . .
Jump into the project with all your energy and focus — and move forward. If you just "dabble" you are stalling and being victimized by the 'will to fail.'
Completely ignore memories of past failures.
Refuse to attach any importance to temporary discomfort, worry, or past pain.
Run trial performances in your mind to be prepared for any contingency.
Keep your mind invigorated, excited, and free of self-doubt and anxiety.
The speed and rhythm of your work may be different than in the past experience. You may be working more slowly and deliberately — and that's OK, because there will be no confusion of issues, or a part of your mind dreaming of other things.
You will act as if it were impossible to fail.
Make It Happen
You have captured the mood of an earlier success that will keep you focused and confident.
Unimpeded, purposeful movement in a forward direction is fun, with its own rhythm.
Having the courage to move forward facing the right direction is an absolute necessity for success.
If you are not doing things that ignite your passion, that you have the skill and talent to do, and that allow you to make a contribution to the world, there will always be a core of unhappiness that becomes more and more difficult to ignore as time passes.
Success, for any intelligent adult, is equivalent to doing one's best and believing that it is impossible to fail.
What your best may be, can only be discovered by freeing yourself completely from the "will to fail."
You noted what you want to do — NOW, clear your mind — create your model — and move forward "as if it were impossible to fail."
Follow the words of wisdom of this brilliant author and change your life.
I highly recommend Wake Up and Live by Dorothea Brande. It should be on everyone's reading list.